When it comes to audio advertising – podcasting, terrestrial or satellite radio, or streaming – you're always going to hear about who is #1.
Boy, they'll beat that drum to death!
But the one statistic that can help your advertising the most…is rarely ever talked about.
That's repetition.
The fact you hear the ad over and over and over…you not only get the message, you memorize the message.
For example:  "ba da, ba, ba, baaaaaa"
I would bet you even heard the tune and said, "I'm lovin' it."
Ah, yes…the power of repetition.
So, how do you know people are hearing your ad and hearing it a LOT?!
THAT is called "TSL" = Time Spent Listening
How LONG people are listening to a station, show or podcast.
If you listen to the radio during your morning commute…how many times would you expect to hear the same ad?
That's TSL.
Now…how about if your highly desired customer is listening for over six hours per week?!  How many times would they hear YOUR ad??!!
That's the power of podcasting.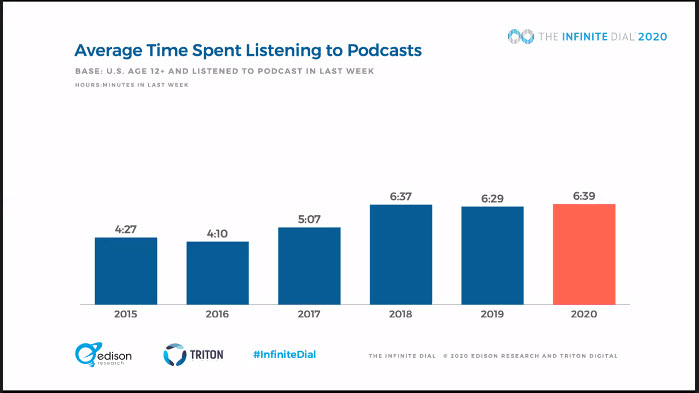 According to Edison Research and Triton Digital, listeners are tuning into podcasts for just almost six hours and forty minutes per week!
You can't find that kind of TSL – or better yet, repetition – on almost any other format.
NuMedia Mix can put that kind of repetition power to work for your campaign.  Contact us now and let's see how we can leverage repetition for you.